Britney Spears talked about her work, her two sons and her teenage sister Jamie Lynn's pregnancy.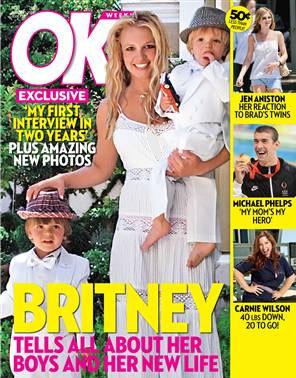 The troubled pop singer, who was speaking with poise and confidence that belies her recent turbulent past, makes it appear like a distant memory. She redeemed herself through a OK! magazine interview for their cover story after disastrous interview with the magazine in July 2007.
The recent interview took place in Britney's living room in Los Angeles, in the presence of her father and conservator, Jamie Spears.
Britney Spears is upbeat about her upcoming album, which is expected to hit stores in six to nine months.
On her album, the "Toxic" singer described her album as "I think it is more urban. I'm writing every day, right here at the piano in this living room… This is my best work ever."
Alluding to what may have gone wrong with her own childhood Britney revealed that she is not keen that her sons, Jayden James (b. September 12, 2006) and Sean Preston (b. September 14, 2005), pursue a career in the entertainment industry.
The troubled pop singer revealed: "I'd rather not. But I'd love them unconditionally if they wanted to. I'd just as soon they have a more normal childhood."
Jamie too spoke to the magazine talking fondly about his daughter and her former husband Kevin Federline. He says his relationship with Britney has improved though she continues to take advantage of him!
He said: "It's wonderful. (The relationship) is new for both of us. She sometimes calls me 50 times a day and asks me things that light my life up. But like all daughters, she is very manipulative and cunning. So she gets what she wants a lot."
Jamie is appreciative of Kevin and says he has been very supportive of Britney Spears. He continued: "Kevin is all for everything. He wants her to have 50/50 custody. He wants them to raise these kids together. Kevin's heart is right."
On her Jamie Lynn's pregnancy was mind-boggling, the singer spoke for the first time about her teen sister's baby.
The troubled pop singer has opened up about the shock pregnancy of her teen sister Jamie Lynn after she explained that the situation was "mind-boggling".
The "Zoey 101" star fell pregnant aged 15, and gave birth to her first daughter Maddie Briann in June.
And now her big sister Britney has revealed her disbelief at hearing the news her younger sibling was soon to be a mother.
She revealed: "That was special, but it was also strange because she's always been the baby."
She continued: "And now the baby was having a baby… I was shocked a little bit. It was mind-boggling."
But Britney Spears, who recently lost custody of her two sons Sean Preston and Jayden James, hopes that her niece will bring the family back together again. She added: "I'm sure the boys will be like big brothers to Maddie."
Comments
comments