Back in Miami after last night's performance in Tampa, Britney Spears took a welcome break from her Circus tour, and soaked in the sun by the poolside with her toddlers, Sean and Jayden.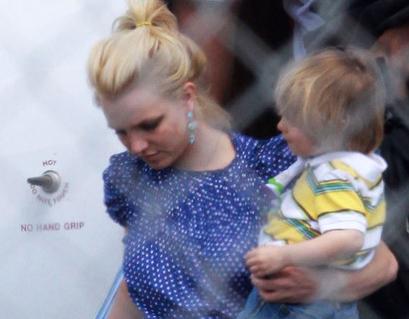 Britney's halter neck bikini top and string bikini bottom were a perfect fit, even if they did not cover much, unlike her ill filling costume in Tampa last night that prompted her endearing remark, "My p*ssy was hanging out."
The remark directed at her management was audible to the audience because Britney overlooked to turn her mic off.
Britney's day off included some shopping.
"Went shopping in Coral Gables, bought some purses and sunglasses!" she just twitted.
Though her performances have not been electrifying Britney looks in very good shape.
Her next performance is at the Nasseau Coliseum, Uniondale, NY on Wednesday, March 11.
Comments
comments