Miley Cyrus says writing about her being bullied and her break-up with Nick Jonas on "Miley Cyrus: Miles to Go" is hard, but calls it "the best thing I ever did and the best thing I will ever do".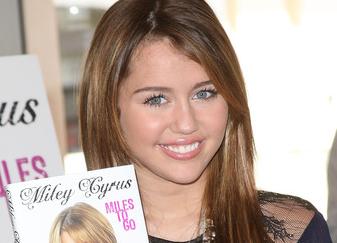 Sharing in her just-released autobiography "Miley Cyrus: Miles to Go" about her becoming the target of bullying in her pre-teen years and also about her break-up with ex-boyfriend Nick Jonas, Miley Cyrus told MTV News she found it hard to open up about the two topics.
"I would say that it was hard, but it was also the best thing I ever did and the best thing I will ever do because I think it's a good thing that you get, like, a flashback and really remember all those moments," she said during a Los Angeles book signing.
"I think it's important not to grow up so much that you forget about your heart and what's important for your heart," the Disney teen sensation continued. "There's a lot about being bullied and a lot about breakups, and that's something that is really hard to write about and stuff that's easy to relate to. And I wanted my fans to always be able to relate to me, so I think that was really important."
On top of being bullied and breaking-up with Nick, Miley told the network that the loss of her grandfather was the most painful topic to discuss on her autobiography. "That was something I hadn't talked about in a long time, and I was really happy. … It was really good to just remember that," she explained.
Now that her autobiography "Miley Cyrus: Miles to Go" has hit the market, Miley Cyrus admitted she "would love to do another book and hopefully a tour and more songwriting and more CDs, more movies and more TV." She said, "I just want to keep working as long as I can, 'cause it's my dream and I love it."
Meanwhile, The Prince Charming that she refers to in her autobiography Miles To Go is none other than Nick Jonas, Hannah Montana star Miley Cyrus told the ladies on The View.
"I only had one other real relationship and it was Nick," said Miley.
At a book signing in L.A. on Saturday, Miley was asked what she would call Justin Gaston, her current boyfriend.
"Probably just Justin," said Miley smiling coyly. "Because he's perfect."
Miley, who admits to having drawn inspiration for her songs from Nick, was asked if she would be similarly writing about Justin.
"I like to write about all the current things that happen in my life, so definitely," Miley responded.
Comments
comments