Cameron Diaz and Gerard Butler enjoyed a double date with Reese Witherspoon and Jake Gyllenhaal last weekend.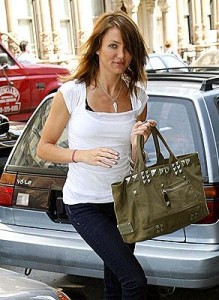 The foursome met at Los Angeles' Chateau Marmont hotel just after midnight for a very late dinner, laughing and joking together into the early hours.
A source revealed, "They arrived at 12.30am and grabbed a table on the patio. Cameron snuggled up to Gerard and rested her head on his shoulder. Jake and Reese were really cute together too, joking a lot and just very comfortable with each other."
Cameron Diaz, who has reportedly enjoyed a string of dates with Scottish "300" star Gerard over the past fortnight, entertained the group as they drank red wine with their appetizers and main courses.
The source added, "Cameron was the center of attention. Reese threw in an occasional wisecrack, but Cameron was really on a roll."
The insider added, "Cameron and Gerard held hands under the table, but Reese and Jake were slightly less affectionate."
Comments
comments