Cameron Diaz espouses environmental consciousness as she takes the June 2009 cover of Vogue, on stands May 19.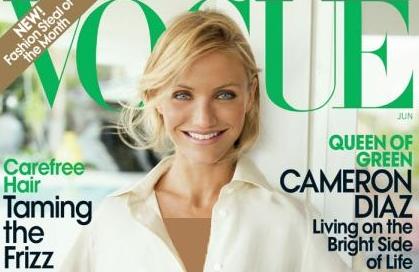 In the June issue of Vogue, the actress opens up about losing her dad, Emilio, to pneumonia last year at the age of 58. For more pictures of her, you could see the photos here.
Here's what she tells the mag on a road trip to the desert:
On the death of her dad: "I think… emotionally, it definitely took its toll," she said when asked about returning to work after losing her father. "Definitely."
"It's the human experience…You know, that's what the heart does. Things are given to us, and things are taken away. And I think the heart becomes stronger, more capable."
In her upcoming film My Sister's Keeper, Cameron plays the mother of two young daughters, one who is dying of leukemia, and another who is suing for medical control of her body.
Cameron on Her Role In My Sister's Keeper: "This is a woman who does not waver
"That's not something you want to accept about anybody you love – particularly if you are mother," Cameron says of playing the mother of a dying child. "That's what I held on to as I was telling her story. You are a parent. You fight to keep your child alive, no matter what it takes."
On being relaxed about her movie career: "It's been fifteen years now, and I really feel like I'm just understanding it. You know, the toolbox is just taking shape. And I like that because, if you are lucky, life's a long journey, and I love the learning process. There are so many movies that I still want to make, so many different kinds."
On loving the Big Apple: "It's the best thing ever! New York is the best city in the world, no doubt about it. No other city possesses what New York possesses."
On her latest movie, My Sister's Keeper, out June 26: "It's about falling in love. It's about all different kinds of love. Parents falling in love with their children. Children falling in love with their parents. Falling in love for the first time. Falling in love with being a teenager. All of the things that you fall in love with, that our hearts give way to over a lifetime, and then the heartbreaks when those things get taken away."
Comments
comments