A representative for the movie beauty confirms reports that the two have split up, adding they remain friends.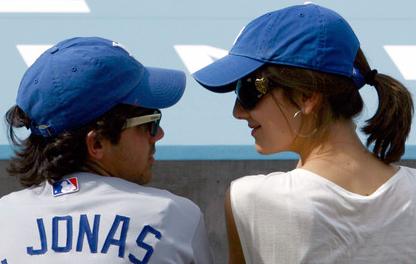 Earlier reports claiming Camilla Belle and Joe Jonas have broken up are true. The actress' representative Brad Cafarelli confirms the nature of the twosome's status, saying "Yes, it's true, they have broken up. There is no third party involved, and they care deeply about each other and will remain friends."
Joe, 19, reportedly is saddened by his separation from Camilla, 22. His sadness was obvious to be noticed during a Jonas Brothers' concert in Detroit, Michigan on Sunday night, July 26, especially when he sang "Much Better," a song he penned after he began dating Camilla last year.
The middle of the Jonas boys was said changing the line "Get a rep for breakin' hearts, now I'm done with superstars" to "Get a rep for breakin' hearts, now I'm done with movie stars." He was also missing a necklace the actress had given him as a present.
Joe Jonas began dating Camilla Belle last year after meeting her on the set of his band's music video for hit song "Lovebug," in which she has a starring role. He was widely believed dumping ex-girlfriend Taylor Swift to be with Camilla. He denied the claim though, insisting he "never cheated on a girlfriend." Taylor herself publicly dished Joe for dumping her over the phone.
Shortly after romancing Camilla, Joe wrote "Much Better," which lyric is about a girlfriend who is "much better" than a previous girlfriend. Despite his failed love relationship with Camilla, Joe is still on board touring with Jonas Brothers. Camilla herself is filming her new flick, "Father of Invention", which is targeting 2010 U.S. release.
Comments
comments