Carla Bruni was having her make-up done at the time during the interview for a glossy magazine. The supermodel seemed only vaguely embarrassed by her evidently chilly state of undress.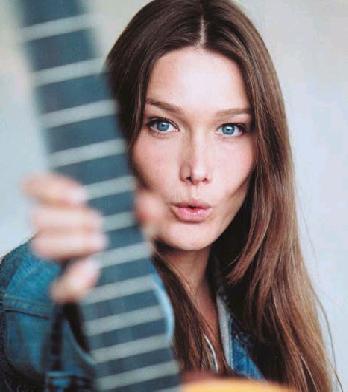 A Gorgeous, husky-voiced supermodel, who was [email protected] from the waist up, said at that time, "Sorry for being topless." You could see her sexy snap here.
During the interview that followed the kitchen concert, Carla would deny the allegations: "100 per cent. No, 200 per cent."
In the interview, she confessed, "I have always loved men… I am uncomplicated, a girl without problems. I think men like that."
Meanwhile, the French President Nicolas Sarkozy and fiancée Carla Bruni are not married after the couple were rumored to have wed in a secret ceremony at the Elysee Palace two weeks ago.
But Carla Bruni has now spoken out personally for the first time to describe the claims as a "hurricane of madness". She said though that getting married was something she and the president "planned to do".
On plans to accompany Nicolas Sarkozy on a state visit to India this Friday, she confirmed that Indian officials had been agonizing over whether to treat her as "First Girlfriend", "First Lady", "presidential delegate", or "private visitor".
She revealed, "We had never planned on going together and I am unable to go on this trip with the president, which is a shame. We aren't married yet, though it is something which we plan to do."
The couple were said to have been planning a romantic private visit to the Taj Mahal during the Indian visit, but Carla Bruni said, "I'm not going at all. Besides, the jet lag is not good for the health."
The stunning Italian multi-millionairess is also said to have sent text messages to all her friends last week to dismiss the marriage rumors.
Her text message indicates, "This talk of marriage is a whirlwind of madness", Liberation newspaper said.
Comments
comments