A judge declined to change the extent of Charlie Sheen's visitation privileges with his children but made modifications to the custody arrangement in place following a hearing on Monday, July 21, prompting lawyers for Sheen and Denise Richard to both claim victories.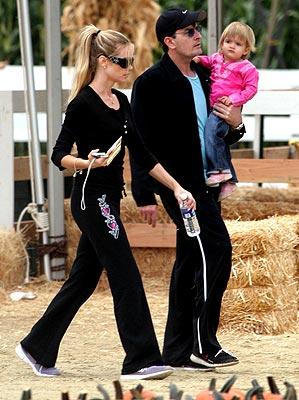 Fern Wender, who is Sheen's attorney, revealed: "We are very happy. The commissioner denied the majority of [Richard's] motion. Charlie is thrilled with the result."
Neal Hersh, who is Denise's attorney revealed: "We are very pleased the judge took the time," said Denise's attorney, Neal Hersh. "We are very pleased. Denise will implement these orders and hope Charlie will implement them."
It is not clear what the two exes were feuding over.
Neal Hersh added: "It was a serious issue that benefited the welfare of the children. It was a win situation for the children.
Stan Rosenfield, who is the publicist, said: "Charlie [Sheen] only wants what is best for his young children. It is unfortunate that Richards and her attorney are trying to create a media circus to help her promote her reality television series.
Denise Richards took the dispute to court on Thursday, July 17, seeking an emergency protective order to restrict Charlie's visitation rights. However, the judge dealing with their custody dispute, Harvey Silberman, was not in court that day. A sit in the judge asked Denise's attorney to raise the issue with Silberman on his return on Monday.
While Denise Richards was present in the court along with her lawyer today, Charlie [Sheen] stayed away. Both the lawyers brought video recordings to support their contentions but these were not played during the closed court session. An expert testified but the nature of that testimony is unclear.
Comments
comments