Charlotte Church has been warned against sleeping beside her newborn baby. It is because she is at risk of killing her baby.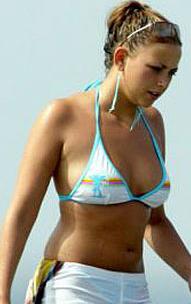 The 21-year-old singer recently admitted she cannot resist lying next to her child, despite her fiancé Gavin Henson's initial fears.
She revealed, "Gavin was worried about me rolling over and smothering her, but I think it's instinctive I wouldn't. The baby's in front of me and Gavin cuddles up behind me because that's the only way I can sleep."
But the Foundation for the Study of Infant Deaths is worried the singer may be endangering baby Ruby's life.
Joyce Epstein, the director of the British charity, revealed, "When we heard Charlotte was sharing a bed with her baby, we wanted to make sure she was making an informed decision about the risks. We supplied her with the relevant information. All our advice is based on proven research and it's important that parents are aware of the risks."
Comments
comments