Chelsy Davy, the girlfriend of Prince Harry, has decided to study at Leeds University to be closer to her boyfriend.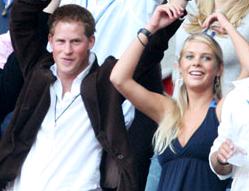 The 21-year-old Zimbawean beauty has applied for a post-graduate degree course at the West Yorkshire University.
If her application comes through, then she will be spending at least a year living in England. A friend revealed, "Leeds will be perfect for Chelsy. She has been with Haz (Prince Harry) for three years now but they have never lived in the same continent, let alone country. Chelsy has several friends at Leeds and it will be great for her to spend weekends with her man."
However, the decision has a obstacle to hurdle because Chelsy doesn't like the cold and wet weather of the UK.
A friend added, "Chelsy really doesn't like the cold and wet of England. She would rather stay in Cape Town where it is beautiful all year round. But this is the only way she and Haz can move to the next level. They can't go on with the mother of all long- distance romances."
Comments
comments