Christina Aguilera, who got "Stripped" album, took the title of her album quite literally when she posed nude for PETA in Christmas e-card.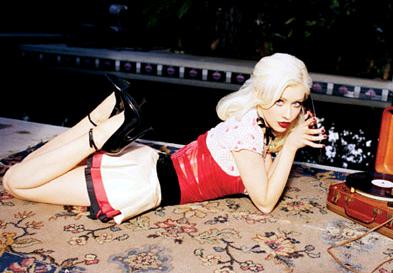 The American pop singer wears just a pair of saucy gloves in the card, and tells shoppers not to buy fur this festive season.
The 27-year-old star revealed, "When I was 6 years old, I had a little fur coat, but that was it. That's the only time I've ever had any in my life."
She admitted being a hardcore vegetarian. She also encouraged people to go for synthetic fur instead of real, thereby saving some money in the process, saying, "When I became a vegetarian, I just started reading more and more about where fur comes from and what they do to the animals. It all went hand-in-hand together. That was when I was 15."
She added, "They make really great synthetic fur – you really don't need real fur. And it's cheaper, so why spend the money? The holidays are also a time when people freak out about their finances. If you don't want to spend the money, why not try some of the other options instead of killing a bunch of animals?"
Christina Aguilera has now joined the celebrities who posed for PETA like Christina Applegate, Alicia Silverstone, Pamela Anderson, Sophie Monk and Jamelia.
Comments
comments