Commemorative coin, which showed portraits of Prince William and Kate Middleton, to mark the royal wedding on April 29.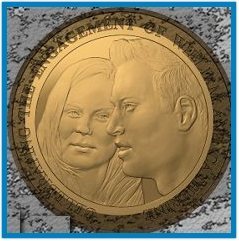 Images on the commemorative wedding coin, which is based on the couple at a polo match, bear little resemblance to the couple. Kate appeared plump and Prince William was thought to be Al Gore.
Although critics complained over the poor images, the special design received approval from both Prince William and Queen Elizabeth II.
Comments
comments