Corri Fetman, who has made a name for herself as she posed for Playboy, has hit the controversy with a billboard featuring sexy male and female bodies and the slogan, "Life's Short, Get A Divorce."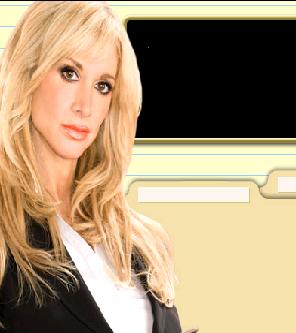 The sexy female "lawyer of love," who released the controversial billboard "Life's Short, Get A Divorce," bares it all for the classy magazine. You could see her sexy snaps here.
In May 2007, Chicago law firm Fetman, Garland & Associates stirred up billboard controversy. Outraged onlookers said the ad was anti-marriage, but partner Corri Fetman begs to differ, saying, "We believe you shouldn't stay in an unhappy marriage." The law firm followed up with another steamy mobile billboard in June 2007, and Fetman has just launched another billboard featuring her in dominatrix attire.
According to a report, "Chicago attorney Corri Fetman is taking it all off — and writing an exclusive "Lawyer of Love" online column featuring her legal take on love — for Playboy.com The racy billboard raised eyebrows across the world this past summer and Corri, a partner at Fetman, Garland & Associates, was accused of promoting divorce.'"
In the February 2008 edition of Playboy, Corri Fetman reveals the [email protected] truth behind these billboards. The sexy female in the ads is none other than Corri Fetman herself. She also reveals what was left up to the imagination in the ads, posing nude as Boss of the Month in the February issue of Playboy.
But the Chicago lawyer is more than just a pretty face, so we asked her to write an exclusive column on love and the law, covering some of her most frequently asked questions.
Comments
comments