Daniel Radcliffe, Harry Potter actor, enjoyed annoying the paparazzi during his recent stint on the London stage – for six months he deliberately wore the same clothes when leaving the theater so photographs would be worthless.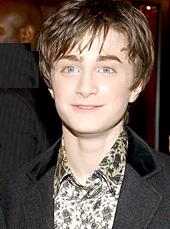 Photographers greeted the 17-year-old actor each night outside the Gielgud Theatre during his stint in controversial West End play Equus, where the teenage actor disrobed onstage every night.
Daniel Radcliffe quickly realized newspaper and magazine editors wouldn't publish photos of him wearing the same outfit night after night, because it would look like the pictures were taken on the same day.
He revealed, "They (the paparazzi) were outside the theatre every single night, but we came up with a cunning ruse. I would wear the same outfit every time – a different T-shirt underneath, but I'd wear the same jacket and zip it up so they couldn't see what I was wearing underneath, and the same hat.
He added, "So they could take pictures for six months, but it would look like the same day, so they (photos) became unpublishable. Which was hilarious, because there's nothing better than seeing paparazzi getting really frustrated."
Comments
comments