During Danny's visit to OK! magazine office, where he enjoyed the delicious treats and posed for pictures with his faithful fans here, he dished about how his life has changed since Idol, his personal music idol, the loss of his beloved wife, Sophia, and the foundation he dedicated to her memory.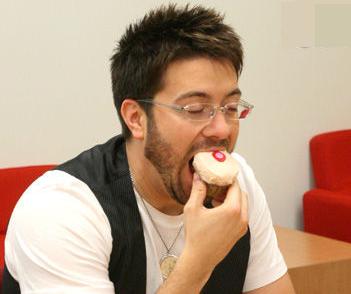 Here are the highlights of his interview:
Congrats. You made it into the top three, the three musketeers.
Three amigos. Three stooges.
How's that been?
It's been a great privilege to make it that far on the show, at least that's what I thought. I think a lot of people would agree with that. Just the accomplishment to go from 103,000 to top three.
In your wildest dreams did you think you'd end up being in the Top 3?
I don't think any of us thought that it would come down to this. You're one amongst so many. What's going to separate you? What's going to make you stand apart from everybody else? Yeah, I can sing, but so can everyone else, well not everyone else, but a lot of people can sing who come to the auditions. And somebody has to grip them. My goal was just to make it to Hollywood, and I made it much, much further than Hollywood.
Were your friends and family a little surprised when you made it that far?
No, I don't think they were because they were the ones who told me to try out. And I was always the one who said, "No. No, no, no."
How many seasons did they ask you to audition?
Many seasons, I probably think since the show began they told me. Basically, it was the last year that I could do it [because of the age limit], so and I watched it last year and that kind of got me to do it.
It's nice you swooped in right under.
Yeah, ain't that the truth? I came in at the perfect time. I mean, yeah, it was quite the road to walk here, but I made it and I'm very proud of my accomplishment.
What's been the song that's kind of been your anthem?
"What Hurts The Most," I think. I like that song a lot. And like "P.Y.T." I love that song, too. They're songs that I think could define me when I'm singing, you know on an album.
Seeing yourself grow from an artist from the beginning of the show to now, how do you think you have grown and changed?
I think in a lot of areas. I think in presentation, in cleaning up my vocals, in dealing with the public. There are so many areas, but the thing is I feel like I'm just in the infant stages, there is a lot more growing to do. So, I just take it as it comes.
Is there an artist that you kind of want your career to be similar to?
Well, one thing I can say is that I like Brian McKnight because has longevity in his career. I like his songwriting because it has a way of reaching the heart. I like Lauryn Hill, also because she has a very powerful message when she sings. Those kind of things stick out to me.
Getting to perform with Lionel Richie, tell me a little bit about that!
That was my highlight of my journey on American Idol.
Really?
Absolutely. That was the best moment I had on American Idol. I think that ending on that note made me a very happy camper.
Everyone got to pair up with their idols.
He is an amazing guy. It was such an opportunity, and not only that, but it was an honor to work with him. He was outstanding. I can't say enough about this guy.
He is a musical legend.
He came across as the most humble, because I was sort of nervous to sing with him because it's his music. At one point, I was trying to control myself and sing more low-key and I said, "Please just tell me can I put my own twist on it? I don't want to disrespect you as an artist. I want to honor your request." And he said, "you do whatever you want to do." He said, "I'm gonna sing it like this, how I do it on my albums. I want you to take any freedom you want and just go in and out. Weave in and out around me. Just do what you want to do."
Any other big mentors, like Simon Cowell? I know Paula was one of your biggest fans.
Love Paula. I love Paula. I love her even more now being on the show. You know, Paula looks at music from the heart. And Simon balances her out because he looks at music on an intellectual level. He analyzes it here, while she takes it here and responds from here. Randy and Kara, they've been in the industry long enough to have, they have very balanced opinions, too.
Any crazy fan stories?
There's a lot of crazy things, but I think that it's just come in and come out at the same time. I can't think of one thing. You know on the show, the hometown one, [fans were] just running and screaming, crazy behind my limo, then finally just giving up and throwing everything on the ground.
Are you going to stay living in Milwaukee or do you think you'll move to Hollywood, New York?
I'm going to stay in Milwaukee because of the foundation. I'm probably not going to live there full time. I think, what I see in the future, I see myself going between Los Angeles, Nashville, and Milwaukee, a lot. Between those cities.
What's the first thing that now that the show is done that you can't wait to do, besides sleep?
Oh my goodness. Work on my foundation, seriously, that was the one thing that I wanted to get on so deeply.

How did your foundation, Sophia's Heart, start?
The history of it is that when my wife passed away, it was obviously completely unexpected. Just nine months previous to that, we were getting benefits through me, and we ended up switching over and got benefits through her and little did I know when she passed was that she had an insurance policy on her life.
And, you know, when I got that check in the mail, I was like what do I do with this. It's personal, I was kind of offended, not that they meant to do this, they were trying to help out, but they put a dollar amount on my wife. I said, "This has no value compared to her." And what could I do? How could I spend that money? Would you buy a car? Heck no. But what can you buy? Nothing. So, that's when the idea came up for the foundation, and I said I'm going to start a foundation.
I used that money, a majority of that money, probably about 75-80 percent of that money [for the foundation]. Because I didn't have a job, so I had to live off some of it, too. That's where it started. Now it's become her living legacy on the earth. And you know, my music is my message and the foundation is the action behind the message. And I just want to reach a lot of kids, lot of youth, lot of families with this foundation because that's what she would have done. So, to me, it's very precious to me. I want my music and my foundation to be a marriage. I don't want them to ever be separate. Every tour, every thing I go on I want to talk about, I want to have video clips, I want to have everything.
Have you written songs for her?
I've come up with ideas for that, but I haven't. For me, I want to write a song, eventually, regarding that because it's a very, very still a wound, an open wound that hasn't, you know…
Healed.
Not at all, but I took the right steps, I believe to get the healing. You know, going on a show. You know, I can only imagine what life would had been like if I didn't have something like this to distract me, something like this to give me hope. You know, this is a huge hope show for me.
Being on the show who did you rely on, since you had to kind of reconfigure that?
In the beginning, it was Jamar, man. Jamar was very instrumental. When we went to Hollywood week together that was what, November? It was only a couple months after my wife passed, what was it four months? July to November, August, September. It was only four months after doing that, that rigorous schedule. And I would pour my heart out to him and he would be there and we'd just talk through things. And then I met Michael Sarver and he was a great guy to talk to him, man. That guy was great, and he was the one I really relied on. Up to that, it was just casual friendships.
Do you still talk to all the Idols now?
No, I mean, it's funny, I don't, but we get together and we pick right up. It's funny, when I was on American Idol I barely even called my family. Yeah, I'm just a person, when I'm doing something, I'm doing it. And I don't really focus on anything behind it, but now I'm focused on this and when I get back from the tour, it's gonna be like we talked the whole time without ever taking a break.
The glasses. We read something about you, that you have something like 200 pairs.
No, are you kidding me?

How many pairs?
Who said that?
It was on one of the blogs.
Wow, no, a little over 50. I might have 60. I just lost, misplaced nine pairs of glasses.
So someone should sponsor you and just get you your supply.
No, I think I'm gonna come up with a line of glasses, that's what I want to do. I want to come up with my own line of glasses.

That sounds like a plan, Danny.
I'm really excited to do that. Some of those proceeds can help out the foundation. What I heard is that people got into glasses again. Not that they weren't, but I heard that kids started to like their glasses. Even the guys at the Sirius radio station, was like man I wear contacts but you got me wanting to wear glasses again.
Comments
comments