Prince Harry bowed his head in prayer at ground zero Friday "in admiration of the courage shown by the people of this great city" — as he wrote on a wreath he placed at the site of the Sept. 11 terror attack.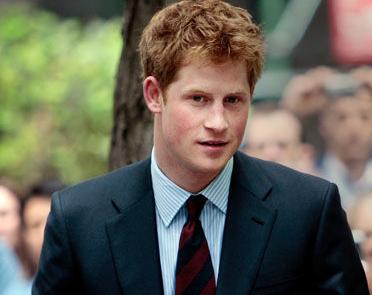 The 24-year-old prince — famed for his youthful, at times embarrassing, escapades — is on his first official trip to the United States.
Clearly, Harry had a different agenda as he started his two-day New York trip.
Dressed somberly in a blue suit, red-and-blue striped tie and black toe-cap shoes, he arrived at the World Trade Center just after noon.
Greeted by New York Gov. David Paterson and Christopher Ward, executive director of the agency that owns the site, Harry spent about 15 minutes quietly speaking to a half-dozen relatives of 9/11 victims.
"It was just very nice to see all the people who lost their loved ones here, just a small group of them," the prince said later.
Among them was Chip Callori, whose brother, Joseph Amatuccio, was killed on Sept. 11, 2001. "It's a very kind gesture on his part — for him to realize that this is a sad but important part of our history," she said.
On a chain-link fence overlooking the Sept. 11 memorial under construction, Harry attached a wreath of peonies and white and yellow roses. Standing alone, he bowed his head in silence for a few minutes.
On the wreath was a handwritten note that read: "In respectful memory of those who lost their lives on Sept. 11, 2001, and in admiration of the courage shown by the people of this great city on that day." It was signed, "Harry."
He then walked along the southern perimeter of the 16-acre site, stopping to pore over rebuilding plans two officials showed him, pointing at foundation work for future towers.
"Big question — when is this supposed to be finished?" asked the prince, who peppered officials with questions about the construction.
As he left the site, he added, "It's just fantastic to see what's going on and hopefully everyone will be really happy with the result — I'm sure they will be."
At the firehouse across the street that houses Engine 10 and Ladder 10, which lost five members on Sept. 11, the prince shook hands with firefighters, then stepped in to admire their equipment as they talked and laughed.
Back on the street, Harry suddenly broke away from his security detail and turned the corner to see the side of the firehouse, which is graced by a bronze memorial to 343 firefighters killed at ground zero.
A few feet away, hundreds of people behind police barricades strained for a glimpse of smiling, red-haired Harry. His fun-loving, outgoing nature erupted as he strolled over to shake hands and chat.
Maria Jimenez, a tourist from Texas, rushed over to snap pictures, saying, "I'm very excited. We don't get very many opportunities to see a prince in Houston, Texas."
The younger son of Prince Charles and the late Princess Diana is third in line to the British throne, after his father and older brother, William.
Early Friday afternoon, Harry formally named the British Memorial Garden in Hanover Square downtown to honor the 67 British victims of the terrorist attack. On its wrought-iron fence, 67 finials are to be painted gold in honor of the British victims. Harry helped plant a so-called "Elizabeth" magnolia tree as part of a New York program to plant 1 million trees in the city.
Later in the afternoon, he was to visit Manhattan's Veterans Affairs Medical Center, touring its prosthetics facilities and a clinic that treats veterans with post-traumatic stress disorder.
Joining the prince in New York was a 21-year-old British soldier who lost both legs when he stepped on an anti-tank mine in Afghanistan last year, while Harry was commanding troops nearby.
Dubbed "the party prince," Harry is a much-watched member of the royal family, regularly making newspaper headlines with his romantic escapades and brushes with scandal. Several years ago, he apologized for wearing a Nazi swastika armband to a friend's costume party.
His New York fun is to come on Saturday, when the prince is to participate in the Veuve Clicquot Manhattan Polo Classic on Governors Island in New York Harbor, facing off against Argentinian polo player and heartthrob Nacho Figueras.
On Friday, Harry seemed to already have captured New Yorkers' hearts.
As he headed for his motorcade near ground zero, the crowd waved, shouting: "Bye, Harry!"
Comments
comments