The "American Idol" hopefuls gave songs from the Rat Pack a whirl on Tuesday night and Danny Gokey used the opportunity to prove Adam Lambert doesn't have the competition in the bag.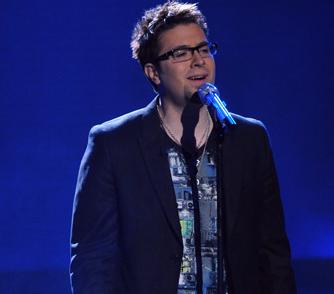 Danny, who was the first real stand-out in the competition, previously tipped for the top by former winner Fantasia, tacked "Come Rain, Come Shine," after a little help from the week's guest mentor, Jamie Foxx .
Danny's version of the song, previously covered by the likes of Billie Holiday, Dinah Shore, Judy Garland and Frank Sinatra, left judge Simon Cowell impressed.
"Your vocals… were the best I've heard from you for weeks," Simon said. "I've gotta pay a special thank you to Jamie Foxx . What Jamie's brought out in you tonight was incredible. That was outstanding."
And Paula Abdul was also thrilled by the performance Danny, the oldest contender left standing, put in.
"Stellar, stellar, stellar performance," she said. "The best thing about you Danny, is I can tell you can see the finish line in front of you."
But Adam Lambert , who performed "Feeling Good," last on the show, didn't disappoint. However, the judges gave some focus to the performer's dramatics while giving their critiques.
"It was a little theatrical and a little too drama filled and a little too Broadway for me, but dude, you are in the zone," Randy Jackson commented.
"I love Randy talking about [it] being theatrical," Simon laughed when he chimed in. "It's like complaining a cow moos. You are theatrical… What I get from you… is the feeling that you want to prove a point every week and you want to entertain."
And, Simon added, "best entrance that we've had so far," referring to Adam's slow descend down the big stage's staircase as he began the song.
As for Allison Iraheta and Matt Giraud, who have both been in the show's bottom three, the judges had mixed reviews.
Allison's version of "Someone To Watch Over Me," was branded "a little bit mechanical" by Simon, but good enough to land her in the finals, by Kara.
And Matt's version of "My Funny Valentine," was dubbed "pitchy" by Randy, while Simon said it was "brilliant."
Kris Allen also received mix praise for his rendition of "The Way You Look Tonight."
Simon called it "wet," while Kara DioGuardi said the young singer was the competition's "dark horse."
Comments
comments