David Archuleta sang the National Anthem before the Real Salt Lake vs Colorado Rapids soccer game at Tinto Stadium in Salt Lake City Saturday night.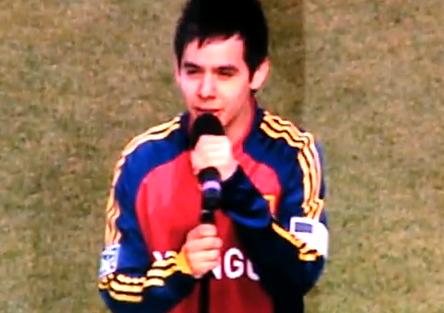 Last Saturday, Archuleta was back at Rio Tinto Stadium where he performed a four-song concert following the Real Salt Lake-Colorado Rapids soccer match. His appearance Saturday was part of the stadium's "Charity Begins at Home" event, which honors Utah military causes and families.
"I'm always up for good causes," Archuleta said of Saturday's event. "And it was back home. I don't get to come home too often. I just love being able to come home and having an excuse to be home."
One thing Archuleta will not be doing while he is home is graduating with his Murray High School class at this afternoon's ceremonies. He said he was forced to drop out of high school when he started his extended run on "American Idol" last year.
"I'm still working on stuff on my own," he said of his schoolwork.
Archuleta's main classroom these days, however, is the stage — where he is a quick study. His first discovery was learning just how big a difference there is between singing a couple songs — even under the white-hot spotlight of "American Idol" — and having to carry the weight of headlining your own show.
"Doing my own show for an hour and 15 minutes — it was frightening," Archuleta said.
In the early going, stamina was also an issue. Archuleta completely lost his voice after his headline tour-opening show in Virginia Beach, Va., in late February.
"I lost my voice and I had a show the next day," he said. "Miraculously, about one-half hour before the [next] show my voice came back. I don't know how. I don't know why."
Developing his own stage presence also is a work in progress.
"I was nervous even walking on stage," Archuleta said of his earlier shows, noting that he literally had to remind himself when to take a step. "But I learned how to move and be comfortable. [How to] just have a good time and let other people have a good time. By the end of the tour I was jumping all around."
Archuleta is currently working on two new albums — one featuring pop songs and the second a Christmas collection. The latter is expected to be available in time for this year's holiday season, while the pop album will likely drop in 2010.
Archuleta's first album peaked at No. 2 on the Billboard charts, as did the single "Crush," which has sold more than 1.5 million digital copies in the United States. Archuleta will be embarking on a 47-city summer tour with Disney star Demi Lovato later this month. (No Utah date has been announced for the tour.)
The down-to-earth Murray teen is trying to keep a level head over all his success and is philosophical about his future — which may or may not include an LDS mission of his own.
"I'm not even 19 yet and it seems like I've already started," he said when asked about his own mission plans. "I feel like this didn't happen just for no reason. I feel like, hey, it could end … in a year or two. You never know. I want to make sure while I'm able to do this, I do what I'm supposed to."