Jennifer Hudson stole the show at the Super Bowl with her rousing rendition of the National Anthem – and now her fellow "American Idol" alumnus David Archuleta is hoping to follow in her footsteps.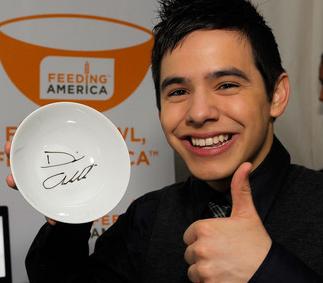 David Archuleta will perform the National Anthem at the NFL Pro Bowl in Hawaii on February 8, the singer announced this week on his MySpace blog.
The last season's "Idol" runner-up wrote: "I'll be going to Hawaii to sing the National Anthem at the Pro Bowl, and it'll be my first time in Hawaii! Woot woot!"
David Archuleta, who was in Florida over the weekend performing at a "corporate event" with "Idol" champ David Cook , said a church commitment kept him from seeing Hudson's Super Bowl performance.
He added: "I called my friend to listen to Jennifer Hudson sing the National Anthem over the phone lol. It was so good! Jennifer has pipes! I watched it on YouTube later."
But this weekend's gig in Hawaii won't be Archuleta's last stop.
As previously reported, the singer will hit the road for his first solo tour, which kicks off February 24 in Virginia Beach, Virginia and wraps up March 21 in Boise, Idaho.
Meanwhile, David Archuleta 's taking it all off — for charity!
Last season's Idol runner-up, 18, is one of several teen celebs taking part in DoSomething's Teens for Jeans charity initiative, which donates denim to homeless teenagers nationwide.