David Archuleta was set to have a planned charity concert in the runner-up's homestate of Utah.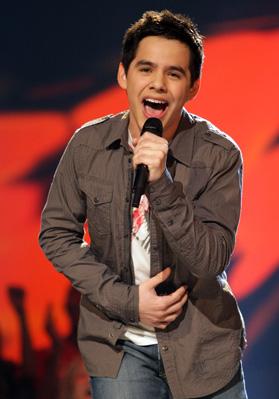 The "American Idol" producers have put the kibosh on a planned charity. The charity was an event masterminded by the father of David Archuleta as a "thank you" to fans who backed the teen crooner.
The planned concert obviously wasn't run through the proper channels and has now been unceremoniously called off due to a little uncharitable thing called "contractual obligations."
Roger Widynowski, who was David Archuleta's agent, revealed that the concert, which was billed as "Back Home With David Archuleta", would not happen since the 17-year-old singer was not allowed to perform at any non-Idol sanctioned gigs. Not even one whose entire proceeds were earmarked for charity.
Jeff Archuleta, who was the infamous father of David Archuleta, revealed, "They're just going to reschedule the event for a later time. When all the minds met, everyone concluded this wouldn't work out for this particular weekend, and they just want to reschedule it for toward the middle or the end of the [American Idols Live! summer] tour."
However, the agent Roger Widynowski revealed that the Utah concert would more likely be postponed until after the American Idol-powered road show comes to a close.
And, it follows, when the proposed gig wouldn't cut into the official tour's potential revenue.
Tickets were originally set to go on sale Wednesday for $1 apiece. A quarter would pay for service charges and the other 75 cents were to be divided between the Multiple Sclerosis Society and Make-a-Wish Foundation.
Hometown fans will still get a chance to see the star-in-the-making before then, as the Idol tour touches down in Salt Lake City on July 14 and 15.
David Archuleta is in his hometown of Murray through the end of the week before returning to Los Angeles to begin rehearsing for the summer trek, which features champ David Cook and the rest of the top 10 finalists and kicks off July 1 in Glendale, Arizona.
Comments
comments