David Archuleta was spotted as he performed a show in Park City, Utah Saturday night.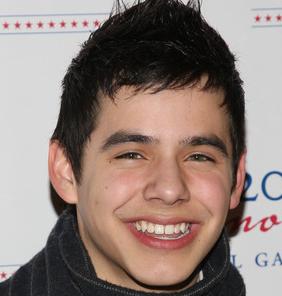 Here's what's coming up for David in the near future: As David met with a TV crew, I chatted with his father (and manager), Jeff, who told me a bit about what's ahead for David: David's second single is out, and his labels are planning for the European and Japanese releases of his album; in the near future will be an announcement about David's first solo national tour — apparently about six weeks, in 1,000- to 2,000-seat venues, aiming for some areas the Idols Live tour bypassed. Then I followed David and Jeff up to the suite to await showtime, 11 p.m.
And, last night, David performed the National Anthem at a pre-inaugural Latin ball in Washington DC headlined by Jennifer Lopez and Marc Anthony. Also in attendance were Wilmer Valderrama from That 70's Show, comedian George Lopez and actress Rosie Perez.
Some of the highlights of his interview:
On his impression of Kara DioGuardi, who was then in her final days as mere songwriter: "She is awesome. I love Kara. She is so spunky and tough, but really easy to open up to at the same time."
On his favorite current recording artists, he replied that he has too many to name a few but he finally revealed Jason Mraz, John Mayer and Natasha Bedingfield in his top tier. He said the first album he ever bought was Avril Lavigne, when he was 11.
His advice to this year's contestants: "Remember to have a good time. Remember to be yourself and to let America get to know you and see who you are." He also said the schedule could get brutal — some days, he said, he felt that he was pushing up against his limits — but when you succeed, it's a great feeling: "It was like, Wow! I got through it!"
His message to young girls whose video bemoaning the final results: "I hope they are OK now, and that they are OK with Cook winning, because he really is an awesome guy. … I really appreciate all the support, but there's no problem with Cook winning. And I hope they enjoy the music. And I hope I get to meet them someday."
On how he stayed grounded during a year in which his career skyrocketed, he added: "It's being part of these people. They make me the way I am. My family and my friends. They make me remember myself and where I'm from, and how they love me hasn't changed and how they treat me hasn't changed."
Comments
comments