David Cook, who became a household name in a just few months after winning the popular television contest "American Idol," set to release a debut album.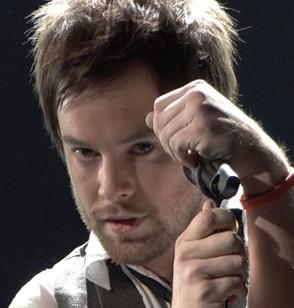 His post-"Idol" single "The Time of My Life" debuted at No. 3 on the Hot 100, the highest entry of 2008, and has sold 970,000 digital downloads, according to Nielsen SoundScan.
Now the "American Idol" champ and the team at 19 Recordings/RCA are trying to keep the momentum going with his self-titled debut, due November 18. On "Idol," he received rave reviews and millions of votes for his hard rock makeovers of pop songs like Lionel Richie's "Hello" and Mariah Carey's "Always Be My Baby." Some controversy arose as to where the arrangements came from, particularly concerning his rendition of Michael Jackson's "Billie Jean," which was based on a version done by Chris Cornell, but it didn't deter fans from crowning him the winner.
With the covers game out of the way, David Cook wanted this new record to be a reintroduction of sorts to his fans. He explained: "I came from a background of playing original music and I really wanted to get back to that."
David Cook and producer Rob Cavallo (Green Day, Kid Rock) started recording in late June, with Cook frequently hitting the studio during downtime from the 53-date summer American Idols Live tour. A host of rock veterans lent a hand with the songwriting, including Goo Goo Dolls' Johnny Rzeznik, Cook's longtime idol Raine Maida of Our Lady Peace and, oddly enough, Cornell, who co-wrote first single "Light On" with Brian Howes. The tune debuted and peaked at No. 17 on the Hot 100, but slid to No. 80 in its fourth week.
He revealed: "We were able to pull together what I think to be a very accurate representation of who I am musically within a three-month period, which is kind of hard to do."
The sound he was going for was an "eclectic rock" record, with "rhythmic songs, heavier tracks and sparse instrumentation."
Songs on the album include the spiraling rocker "Declaration," penned by Cook, Rzeznik and Gregg Wattenberg, which he describes as "open and epic"; "Permanent," a piano and string-backed ballad that showcases the power of Cook's voice; and "Come Back to Me," a soaring number that reaches for U2-like atmospherics.
David Cook's rock edge compares closely to that of former contestant Chris Daughtry, whose namesake band has blown up the charts since his season-six run. RCA Music Group senior VP Aaron Borns feels the two have little in common, though, other than "they both have really rabid fans."
There's been a strong push to congregate those fans online with Cook's Web site, which features a social-networking community so fans can stay up-to-date and interact with one another.
While mobilizing Cook's existing fan base online is a chief component of the campaign, Borns says RCA is reaching out at radio to bring in new listeners. Cook began making radio appearances at the end of October, and he is also confirmed to appear on "The Tonight Show With Jay Leno" and "Live With Regis and Kelly."
A pre-order at iTunes comes with an exclusive bonus track, as does the edition carried at Wal-Mart. And fans who buy the album at the Times Square Virgin Megastore on street date will earn a ticket to an exclusive club show later that night. Touring plans are in the works, but Cook says he'd like to go to college towns this spring and "get out on foot and meet people.
On connecting with his fans, David Cook added: "The power of treating someone like a human being goes a lot farther than a pamphlet or flier. For me it's just about taking the time."
Comments
comments