David Cook visits Fuse's No. 1 Countdown at Fuse Studios on Thursday (June 25) in New York City.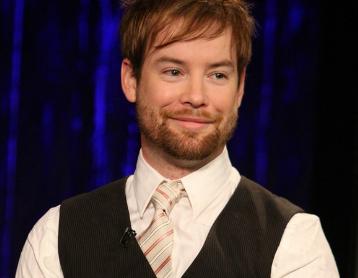 The 26-year-old American Idol winner just scored his 3rd Top 10 Single on Adult Radio. His introductory single, "Time of My Life," reached No. 7, its follow-up, "Light On," peaked at No. 4., and his latest single "Come Back to Me" moved into No. 10 this week. Cook announced plans to extend his first ever solo tour, "The Declaration Tour – 2009," through October 2009.
Meanwhile, David Cook played to a standing room only crowd at Cain's Ballroom on Tuesday night, where there was a warm and romantic welcome.
Suddenly, lights came on and flickered, applause echoed and he came bursting onto the stage. The first song was "Heroes."
His voice was strong. Dressed in black jeans, a black t-shirt and a pair of black boots, he looked great and comfortable. Overall, he had firm control of his stage performance, which did not disappoint.
Throughout his hour and 15 minute set, such hits as "Declaration," and "Come Back to Me," were heard.
He frequently addressed the audience. He spoke of his early days in Tulsa as the crowd interacted and communicated back.
"I remember three years ago, I was harassing Phil to let me book a show here. Tonight we sold out," he said. The crowd cheered enthusiastically.
Cook gave a performance of "Shattered Dreams," and "Til I'm Blue." He spoke of a couch at 41st and Yale Streets, where he spent some time songwriting. His two closing songs, "Light On," and "A Daily Anthem," drew significant crowd reaction.
Comments
comments