Demi Lovato revealed that there's no way she's smooched Joe Jonas – or any of his brothers, for that matter as she graced the cover of Seventeen magazine.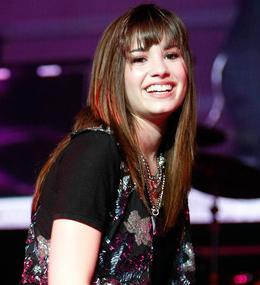 The 16-year-old Disney star revealed in the prom issue of Seventeen: "No! I've never kissed Joe Jonas in my life. I've never kissed a Jonas brother, period!"
She continued: "That would be weird…We're all friends, but they're not the type of guys that I'd be into dating – or else I'd be dating one!"
Demi Lovato called the Jonas Bros "great guys, real gentleman – they've become like brothers to me.
She shared: "I even put on my glasses and wear sweatpants around them because you wouldn't put makeup on for just your brothers! But I have a different relationship with each on. Like, Nick and I always have these totally crazy conspiracy theory conversations! Kevin's older, but he's really funny."
She added: "And I can definitely call Joe a best friend. One of the first nights of filming Camp Rock, we sat there and I spilled everything, and I talked about how I was bullied in school when I was younger."
So would Demi Lovato take a Jonas Brother to the prom? She replied: "You know what? I'd take Selena – because if you go with your best friend, it's more fun. I once went to homecoming with this guy, and it was so awkward – he wasn't my boyfriend and we just stood there all night!"
Comments
comments