Dennis Quaid and his wife Kimberly are set to receive a settlement of $750,000 from Cedars-Sinai Medical Center.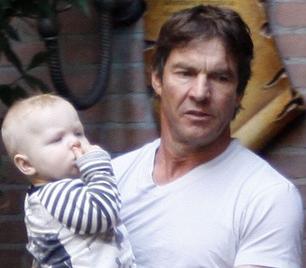 The "Vantage Point" actor and his spouse will be awarded the money following the accidental overdose of their newborn twins Thomas Boone and Zoe Grace in 2007.
Legal papers filed in Los Angeles Superior Court yesterday (15.12.08) read: "The settlement is the result of extensive negotiations between the parties and their respective legal representatives, and is intended to avoid the time, expense and uncertainty of litigation."
The settlement has yet to be approved by a Los Angeles judge.
Just two weeks after the twins' birth via a surrogate mother, nurses at the Los Angeles' hospital administered 10,000 units of the anti-coagulant drug Heparin, which stops the blood from clotting, instead of the 10 units babies are allowed.
Thomas and Zoe spent weeks battling for their lives, and have only recently returned to full health.
The hospital has been fined $25,000 for the California Department of Public Health for their mistake. The facility has since apologized to Dennis, Kimberly and their family.
Dennis and Kimberly have also filed a lawsuit against Baxter Healthcare Corp., who manufacture the drug Heparin, accusing them of negligence in their packaging. The result of that lawsuit has yet to be determined.
Comments
comments