Demi Moore & Ashton Kutcher are reportedly "embarrassed and angry" after learning that camera phone snapshots are circulating in cyberspace.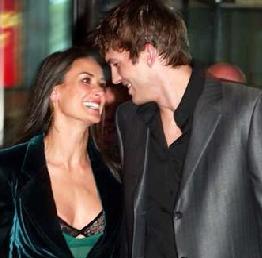 The photos, which were taken on a phone that Ashton Kutcher lost during a trip to Spain in April, include  [email protected] shots of Demi Moore posing on a bed.
Reports indicated that the man who found the phone in the back of a taxi is now offering the snapshots to websites for $1 million.
A source revealed, "In some of the 35 pictures, Demi lies sprawled  [email protected] on a bed with a light and dark red-patterned pillow propping her lower back. Another shows a bare-chested Ashton taking a photo of himself in the mirror."
The lost phone also got the telephone numbers of the couple's celebrity friends. The source added, "People started calling the phone, asking for Ashton. Finally Ashton decided to ring it and spoke to the guy. He demanded that the guy give it back but the man switched the phone off. When Demi and Ashton got word that someone had their racy pictures, they freaked out."
Comments
comments