Rowan Henchy, the 4-year-old daughter of Brooke Shields "is obsessed with Hannah Montana," according to Brooke Shields.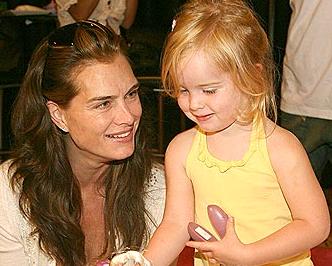 Her young daughter got to chance to see Miley Cyrus, who plays the Disney Channel heroine, because Brooke Shields guest-starred on an episode. The actress plays the title character's deceased mom, who comes back to comfort Hannah.
Brooke Shields revealed, Rowan "was so excited she got to go to a taping of it. But, as the cameras turned at the taping, Shields's line of dialogue was, "It's okay, baby girl" – which just happens to be the private term of endearment Shields uses for Rowan.
Rowan also witnessed her mom hugging Cyrus. That scene prompted her to stand up in the studio audience and shout, "Nooooo … That's my mama for real life!"
Brooke Shields added, "Miley was so-o-o sweet." The actress added that the 14-year-old star told Rowan, "It was so nice for you to let me borrow your mom for today."
Rowan answered, "It's okay, but she's my mama for real life."
Comments
comments