Ellen DeGeneres and Portia de Rossi know how to double their fun!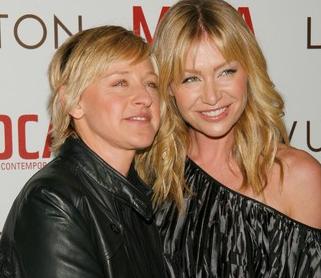 The couple celebrated their birthdays with a joint bash at their Beverly Hills house Saturday, according to a report.
DeGeneres turned 51 on Jan. 26. Five days later on Jan. 31, de Rossi celebrated her 36th birthday.
The party kicked off around 8 p.m., with many guests partying in the backyard, where deejay Samantha Ronson, who brought along girlfriend Lindsay Lohan, spun her own mix for the birthday pair.
According to a partygoer, "This is their first big party together as a married couple. [Ellen] and Portia seem very excited to have all their friends here."
Those pals included Jennifer Aniston, Courteney Cox Arquette and husband David Arquette, Drew Barrymore, Ben Stiller and wife Christine Taylor and Sacha Baron Cohen.
Guest were served a vegan dinner. Mindy Weiss, who also planned DeGeneres and de Rossi's wedding, coordinated the party.
Earlier in the week, the happy couple celebrated DeGeneres's 51st birthday at the Chateau Marmont in Hollywood.