Emma Watson's low-key trip to Waitrose with banker boyfriend Jay Barrymore seems to confirm her stated intention to remain out of the public eye and to learn new skills.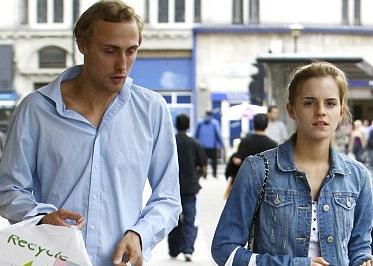 Watson wore a pair of tracksuit bottoms and a denim jacket with trainers and a white top, while boyfriend Jay wore an unbuttoned blue shirt and jeans.
The star, who heads off to Columbia University in September, had her hair pulled back and wore not a scrap of make up.
However, lucky Emma, who is worth more than £10million, still looked radiant and relaxed as she strolled along the street in Finchley, north London.
Emma, who has spent most of her teenage years on film sets, had a copy of Jamie Oliver's Ministry of Food in her shopping bags, which were divided between her and Jay.
The book, which claims that 'anyone can learn to cook in 24 hours', may be of great use to Emma as she prepares to head abroad and become completely self-sufficient after years of film set catering.
Emma is still filming scenes for the final two Harry Potter films (Harry Potter and the Deathly Hallows).
Meanwhile, Emma Watson was spotted signing autographs and filming a scene where she leaves home in the latest Harry Potter film in Golder's Green, North London on July 18, 2009. The gang is already back at work on Deathly Hallows after weeks of promoting Harry Potter and the Half-Blood Prince, which made ridiculous bank at this weekend's box office.
Comments
comments