Emma Watson, who has a £10.5million fortune, appeared to rekindle her romance with financier Jay Barrymore.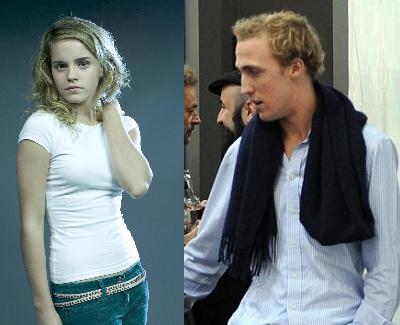 The 18-year-old actress, who had spotted enjoying the company of several young men over the summer, was seen to settle once more with 25-year-old banker, who had slight resemblance of Matthew McConaughy.
The "Harry Potter" star attended the Frieze Art Fair in London with financier Jay Barrymore. The couple held hands but it was not clear whether the banker suggested she invest some of the £2.8million she earned over the last year in a piece of modern art.
When asked if she had plans to purchase a painting, Emma Watson only laughed.
Perhaps the banker is not the only one that Emma Watson spent time with because she also enjoyed the company of Italian actor Roberto Agnillera, whom she met in July during an eight-week Shakespeare course at RADA as she visited several London night spots.
Another young man who is eager to impress Emma Watson is 19-year-old Francis Boulle, a Franco-Mauritian philosophy student at Edinburgh University. It was reported that she later swapped phone numbers with him.
Her parents Chris and Jacqueline, lawyers who met at Oxford University, are said to be keen their daughter goes on to higher education. According to a report, her parents did not approve of Jay Barrymore during the time that he began dating Emma Watson simply because of their seven-year age gap.
Comments
comments