If singing doesn't work out for David Archuleta, he can always turn to acting as he made his acting debut in an episode of Nickelodeon's iCarly.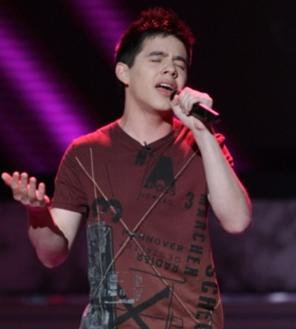 The "American Idol" runner-up recently shot a guest spot on Nickelodeon's iCarly, which is set to air next February, and show star Miranda Cosgrove can't stop gushing.
Miranda Cosgrove revealed at the 10th Anniversary of Yoplait's Save Lids to Save Lives event in Los Angeles: "He is pretty close to my age so it was fun getting to hang out with him."
The 15-year-old teen actress described David Archuleta's acting, saying: "He was really good. He said it was his first big acting part and he just kind of came in and we didn't even rehearse or anything. We just went for it and it went really well."
The "iCarly" star admitted that she was a little star struck to meet the Idol she voted for, adding: "It's funny when you watch American Idol, the people seem like such a big deal so it was weird getting to meet him in person. He is totally normal."
David Archuleta, 17, plays himself on the show but doesn't sing.
Miranda Cosgrove explained: "I have a web show, and he came on the web show as a special guest."
David Archuleta admitted that playing himself made it easy, saying: "I was nervous and thought I'd be awful at acting, but the whole experience felt really comfortable and came pretty easily since I was allowed to play myself."
If he is going to do more acting, the "American Idol" runner-up revealed: "You do need a good memory for the dialogue, and I'll have to work on that, but it would be fun to continue acting. With iCarly, I also got to hang out with kids my own age for a change, and that was a real bonus."
David Archuleta added: "I'm a huge fan of Nickelodeon….so it was especially cool to make my acting debut on a Nick show."
Comments
comments