Eric Mabius, Ugly Betty co-star of Salma Hayek, hated shooting sex scenes with the stunning star. It is because she brought her pack of dogs on set.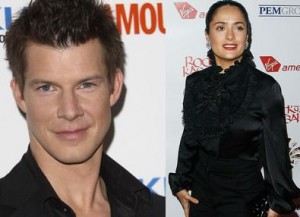 Instead of concentrating on the sexy Latina's curves, Eric Mabius was preoccupied with the intimidating pooches Salma Hayek insisted accompany her.
He revealed, "She has dogs, lots of them. They were all over the set, so it's not sexy… more like directing traffic!"
Meanwhile, Salma Hayek met Olivier Martinez in Paris to do some shopping together on June 14. Sheba, the dog of Olivier, was spotted hanging with them. It seems Olivier takes his dog anywhere.
Comments
comments