Prince Harry has reportedly been banned from playing polo. The 22-year-old officer, who is currently stationed at Alberta's British Army Training Unit, in Canada, has been warned not to play his favorite sport when he gets back to the UK as it will "not look good".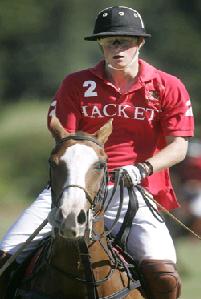 His advisors believe Prince Harry will face a public backlash if he is pictured having fun while his fellow Blues and Royals troops are fighting in the war-torn country.
A source revealed, "He's been warned not to play when he comes home. I think there is an acceptance that it doesn't look good if he is photographed enjoying himself while the men in his regiment are out risking their lives in Iraq."
Over the weekend, Prince Harry drew criticism when he was photographed drunkenly kissing a girl in a Canadian nightclub, despite advisers warning him he should tame his partying.
Meanwhile, Prince Harry's older brother Prince William will be playing lots of polo this summer in a bid to raise millions for charity. The 24-year-old royal is said to be charging sponsors £30,000 to play in matches, which he will then donate to charity.
Comments
comments