Heidi Klum, who is planning to follow in Christina Aguilera's footsteps and spend one day a week as nature intended, wants to have 'n@ked Sundays' with husband Seal.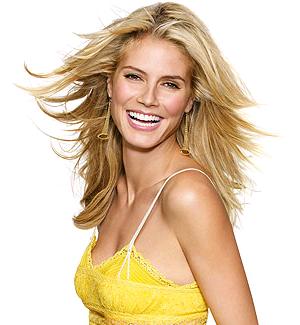 The German supermodel revealed, "You know Christina Aguilera has 'n@ked Sundays'? I might have to copy her and do that. I'll do 'Seal and Heidi's n@ked Sunday.'" You could see her steamy photo here.
Heidi Klum and her "Crazy" singer husband revealed baby Johan is ruining their sex life.
Seal revealed, "Our youngest is now 11 months old, so I've told Heidi we're booting him out of the bedroom. I'm not having it any more. This is the longest time I've known Heidi without her being pregnant. She's got her body back and it's real good fun!"
The 34-year-old supermodel, also joked Britney Spears had given her parenting tips when the "Gimme More" singer arrived uninvited to the Victoria's Secret model's Halloween party at Los Angeles' Green Door lounge.
Heidi Klum sarcastically revealed in a chat show, "We were talking about babies and diapers and she explained to me a lot of things about diapers that I didn't know. You know these sticky things on the side? I never knew that they were there. To close them in the front, I was always putting string around. I had no idea. It's very clever. I learned a lot of things."
Comments
comments