Angelina Jolie and Brad Pitt reportedly have a fight over a mystery blonde that is not Jennifer Aniston.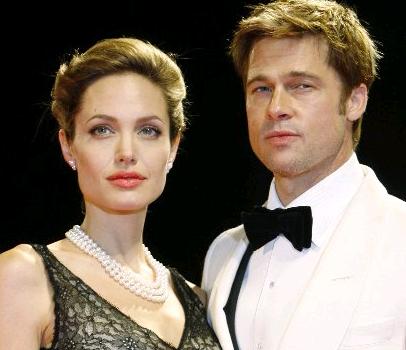 A report indicates the story from a witness that spotted Brad Pitt chatting up and allegedly flirting up a mystery blonde woman at a red carpet event.
The source revealed, "As the night wore on, Brad felt so ignored, he turned his attention to an unidentified tall blond woman, who, Brad spent a lot of the night talking to."
The source added, "Angie lost it when she saw Brad flirting. Her jaw clenched, and she looked really jealous."
A magazine claimed that after Brad and Angelina had at it over his supposed flirting with the woman he left. The report claims that he jumped in a car with the woman and another person and drove away.
Was there anything going on? The story doesn't make that allegation. The claim is that drove to the Peninsula Hotel with the woman and another person. The insider revealed, "I don't know what happened at the hotel but he decided he should go home to Angie. He looked really sullen and downbeat when he left the hotel."
But according to the representative of Brad Pitt, the actor wasn't at the Peninsula then.