Kate Middleton, who was recently reported to show her thigh with her dress, was obviously keen to show their friends her golden tan.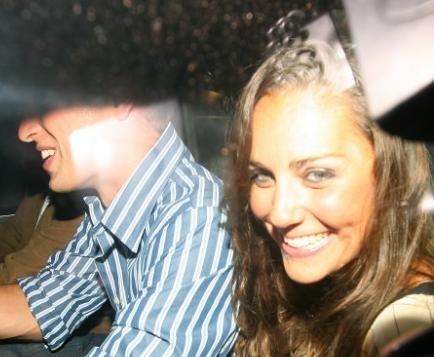 The brunette beauty, which was fresh from a sunshine holiday in Mustique with Prince William, climbed into a car at 3.45am following a lengthy visit to a London nightclub. Her flimsy dress rode up to show a generous expanse of thigh.
The 26-year-old beauty looked remarkably bright-eyed for someone who had spent several hours knocking back cocktails. And as always, the same could not be said for her royal boyfriend.
Prince William appeared well refreshed, to say the least, as he stumbled into the car and almost fell on top of Kate Middleton outside the Raffles Club in the King's Road.
The young couple has just spent a romantic break on the private island following Prince William's five-week tour of duty with the Royal Navy chasing drug smugglers in the Caribbean.
They stayed in a sprawling villa with views over the sea, and spent much of their time relaxing by the private pool.
They were also seen wakeboarding in the ocean as well as sharing a ride in an inflatable ring.
The young couple had already enjoyed two holidays together this year – a ski trip to Klosters and a lengthy stay in May in another villa on Mustique, shortly before the prince began his naval attachment.
Until they were reunited in the Caribbean it had been the longest period of time William, 26, and his girlfriend had been separated since they began dating at St Andrews University more than five years ago.
Now reunited – and on British shores once more – the couple are obviously keen to spend as much time as possible together back at some of their favorite haunts.
And all that warm weather clearly gave Prince William a thirst.