People magazine on Wednesday dubbed Australian actor Hugh Jackman the "sexiest man alive" in its annual issue that previously put George Clooney and Brad Pitt atop the list of Hollywood hunks.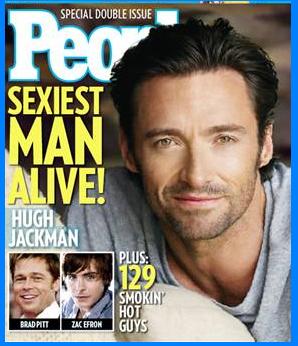 It was not only good looks and physical stature that earned the 40-year-old, 6-foot-2-inch Jackman his new title.
Elizabeth Sporkin, who is the executive editor of People magazine, revealed: "Hugh Jackman is the real package — humble, romantic, drop-dead gorgeous and a star of the moment. He is so much more than his movies — that's sexy."
The magazine said he wields weapons with the best of Hollywood action heroes, and he sings romantic ballads to his wife of 12 years, Deborra-Lee Furness. Jackman also bakes pancakes for his children, Oscar and Ava, when he is not busy sweating it out at the gym, People said.
The actor has wooed audiences in a range of films from action-packed blockbusters like the "X-Men" movies to critically acclaimed "The Prestige." He won a Tony award, Broadway's highest honor, for his role in "The Boy from Oz."
Jackman next appears in epic film drama "Australia," which will debut in the United States next week.
As the "sexiest man alive," he joins the ranks of Pitt, Clooney, Matthew McConaughey and Matt Damon, but People said Jackman is different from the others.
The executive director added: "Brad is unattainably sexy, George is brainy-suave, Matt is boy-next-door sexy, and Hugh's sex appeal is the fact that he is gritty, has a great accent, and is physical."
Here is the highlights of Hugh Jackman's interview:
After turning 40 last October 12 and earning Sexiest Man Alive title, what was your wife's response?" Hugh Jackman replied: God bless her, she said, "I could've told them that years ago!" And then she said, "Obviously, Brad wasn't available this year." And I said, "That was a joke, right?"
"Your marriage is a success story." The actor said: "In my early 20s, I didn't have a regular girlfriend. I was single and really happy about it. And then when I was 26, I met Deb on (the Australian TV show) "Correlli." She was my leading lady. It was just undeniable. I started planning to propose to her at about three months. We are happy. Deb and my kids have been the best things that have ever happened to me, without a doubt."
On keeping the passion alive, he continued: "It's easy with my wife. She loves the idea of me coming home in costume because it makes her feel like she's having an affair in a good way. When we met, I was cast as a prisoner with tattoos and she'd say, "Don't take your tattoos off tonight!" and I'd be like, "All right!" But what works best with her is the stockbroker look. She also says, "Do your sexy dance for me," (an '80s-like, hip-swiveling number) and that works for me."
On the body part he felt self-conscious about, he confessed: "When I was younger, I had chicken legs. My nickname was Sticks."
On the part do people like best, he replied: "My smile. Lately my pecs. I'm being honest!"
When asked what do you wear to bed, he added: "I didn't wear anything until my daughter was born and we had a night nanny because I was working. I walked out stark [email protected], and she was reading a book. Now I like boxer briefs."
Comments
comments