Brad Pitt, who previously seen sporting a new tattoo, is expressing to hit all time lows in his interviews. Is Angelina Jolie dragging the actor down?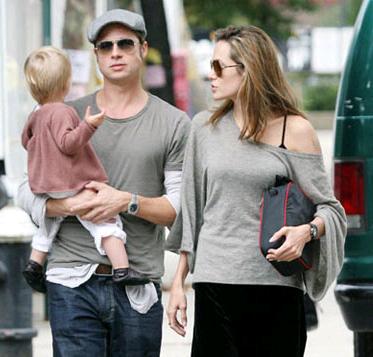 In his earlier talk with magazine Brad Pitt let go with this woe, saying, "I always felt a pervasive sadness. I'm not sure I earned it, because it was always there. It existed in the place where I grew up—in my family, in people who have true sweetness and true goodness. Maybe it's a congenital sadness that everyone has to some degree."
The celebrity couple was once reported that Angelina Jolie have said is that it might be time for Brad Pitt to just sit there and look pretty. It appears that the "Babel" actor had hit rock bottom with his usual scowl and constant down attitude since his relationship with the Angelina Jolie, he adds yet another, this time speaking of his film career.
While promoting his film "The Assassination of Jesse James by the Coward Robert Ford," Brad Pitt added, "I figure I've got very few films left. Who knows how many I'll get to do now, so I want to do something I'm interested in. Otherwise, I don't want to bother. I think it's a younger person's game."