Vanessa Hudgens had the taste of the controversy over her recent pictures. One can actually feel sorry for her to appoint, but it may be time for her boyfriend Zac Efron to try and reign in the Internet's most popular wild child.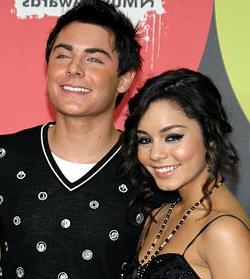 According to earlier reports Vanessa Hudgens was asked by an audience member on the September 17 episode of Tyra's show, how the activities of her fellow young stars like Brit and Lindsay affect her personally.
"I honestly just think it's stupid," she told the audience member. "I mean it's easy to stay out of those situations. I really think it's easy to stay out of those situations, you just have to be smart about your decisions." Now take note that Hudgens' comments were taped prior to photos of the 18-year-old appearing in the buff, surfacing on the web.
But she knew the photos were out there. Zac Efro has been humble and has handled his skyrocketing fame very nicely. Vanessa – not so much. Zac Efron may need to step in and help Vanessa learn to deal with the pressure a bit better.
Comments
comments