Michael Jackson's father, who had an uneasy relationship with the superstar, angered fans Sunday when he appeared to make a commercial plug at his first appearance since his son's death.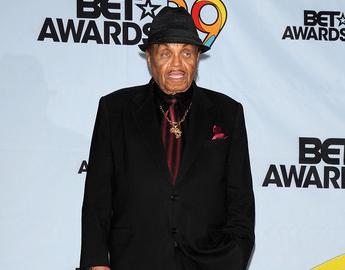 Joe Jackson, the 79-year-old patriarch of the musical clan, made a surprise showing on the red carpet at the Black Entertainment Television awards, which had transformed into a remembrance for the pioneering King of Pop.
During a live interview on CNN television, Jackson introduced an unidentified man who appeared to be a business partner, saying he wanted to make "a real good statement."
"Marshall and I have — we own a record company. Talking about Blu-ray technology. That's the next step," Jackson said.
The blogosphere was instantly buzzing with outrage.
Warren Ballentine, an African-American motivational speaker and radio show host, said that he was flooded with angry messages over Jackson's comments.
"Joe Jackson and his lack of sensitivity and respect disgusts me," said one posting on Jezebel, a blog geared toward women.
Another person wrote on Jezebel that Joe Jackson's behavior was "almost too ghastly to consider: a man seems pursued pretty much to the grave by the demons his father planted in him, and even in death the (expletive) ghoul is still hustling his son's corpse."
Jackson, a steelworker in the industrial city of Gary, Indiana, reared his nine children into musical sensations starting from the Jackson 5 to the phenomenal careers of Michael Jackson and his younger sister Janet Jackson.
Michael Jackson later said that his father would beat him when he missed a note and emotionally humiliate him, contributing to the future star's psychological fragility but also planting in him the will to succeed.
Joe Jackson has acknowledged he would whip his children but denied it was abuse.
Despite the frequent recriminations, the entire family reunited earlier this year in Las Vegas to celebrate Joe and Katherine Jackson's 60th wedding anniversary.
Comments
comments