Jay-Z donned never-before-seen unusual bling in NYC Wednesday: his wedding ring to Beyonce Knowles!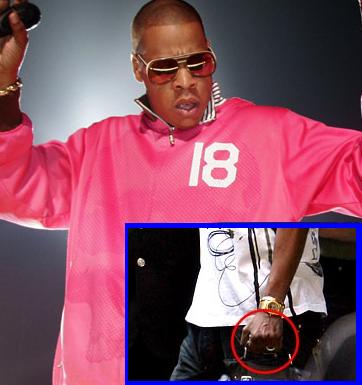 The 38-year-old rapper was spotted wearing the jewelry while leaving his Tribeca apartment, where they wed April 4.
The celebrity couple tied the knot over three months ago in a "very special, very private, very intimate" rooftop ceremony, according to a source close to the pair.
Famous guests included Destiny's Child singers Kelly Rowland and Michelle Williams as well as Gwyneth Paltrow and hubby Chris Martin.
Why did they choose the date April 4? They're obsessed with the number!
The rapper named his club 40/40 after a baseball term. (If a player hits 40 home runs and steals 40 bases in the same season, it's considered a major coup.)
The couple also have matching IV tattoos on their ring fingers, and they were each born on the fourth day of a month (Beyoncé on September 4; Jay-Z, December 4).
Are kids next for the couple? The singer previosuly revealed: "One day I hope to be married with children."
The rapper added: "I don't want to retire at 30, I want to relax. I still want to make albums and movies, but at a slower pace."
Comments
comments