So someone is really into Jennifer Aniston and is so sweet on the California beauty that he is leaving her beautiful flowers on her doorstep to make certain he gets noticed.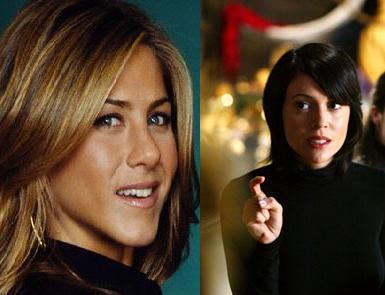 When the report first hit it sounded quite romantic but at the end of the short item it was claimed that Jen has been recently linked with Kevin Connolly.
That always seemed like a stretch (and no that is not a short joke) but still for some reason Connolly's name always pops into the Jennifer dating world even though I'm almost certain they have never been spotted together. But Kevin was sighted recently with another sweet Hollywood actress.
On Alyssa Milano, she has traded baseball players for a Hollywood player. The former "Charmed" star, 35, spent the night wooing Entourage Kevin Connolly at the Playboy Super Saturday Night Party in Phoenix during Super Bowl week. Alyssa didn't play coy – she hung around Kevin and his buddies and waited for an opportunity to talk to him one-on-one, says an eyewitness.
And when he went up to DJ, Alyssa grabbed her chance. By the end of the night, the 33-year-old actor and Alyssa were inseparable, holding hands as they walked around the party. The two left together in his waiting limo. Whatever Kevin is doing he should keep it up, being linked to Jen and Alyssa is quite the feat.
Comments
comments