Jennifer Aniston and her best friend Courteney Cox spend a day together at the beach near their Malibu homes.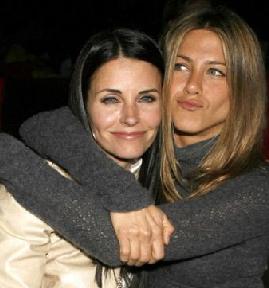 David Arquette, husband of Courtney and a daughter Coco joined the two former stars of Friends on the day, which marked the U.S. Memorial Day.
Jennifer Aniston and Courteney Cox have remained very close since they are still together in television show "Friends". In Cox's U.S. sitcom Dirt, the pair steamed up the screen with their lesbian kiss. As for the kissing scene, Courteney revealed that kissing Jennifer was 'not really a big deal'
Courtney Cox described Jennifer Aniston, saying, "She is very fun and she's goofy and she is just a doll. She is a great fun person with a great sense of humour."
Jennifer Aniston, who wore cut off jeans, casual flip flops and oversized shades, is single again after parting ways with her on-again off-again beau Vince Vaughn in December.
The 38-year-old actress has proved unlucky in love since her divorce from Brad Pitt in 2005.
Comments
comments