Jennifer Aniston is "walking on air" after grabbing the limelight by flaunting her fabulous new figure.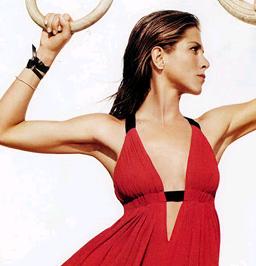 The "Break-up" actress was claimed to be tired of seeing her former husband Brad Pitt and Angelina Jolie on the cover of every magazine, and was delighted to be back in the spotlight herself after showing off her toned body on vacation in Hawaii recently.
A source revealed, "The reaction from people seeing her in that itsy-bitsy, teeny-weeny bikini did more for Jen's self-image and self-confidence than all her years of therapy put together."
The source continued, "She didn't realize the impact it had until she was back in Los Angeles after the trip. Everywhere she went, everyone she spoke to told her what an absolute knockout she is and what great shape she's in. For a 38-year-old woman who has just come out of a relationship and hasn't been in front of the cameras in two years – it had her walking on air."
Jennifer Aniston has also completely renovated her Los Angeles mansion. The actress gutted the 9,000 sq ft, mid-century architectural mansion and had it redecorated to suit her taste.
A source added, "She's viewing it as a symbol of her independence."