Jennifer Aniston, who graced the cover of April 2009 issue of Elle magazine, has said she has "no regrets" as she refused to be drawn into a discussion on her divorce to Brad Pitt in a recent interview.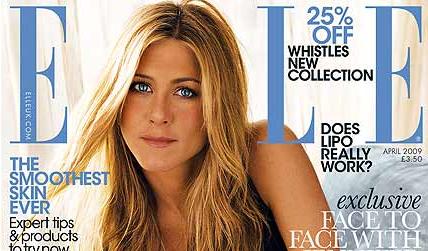 In London to promote her new movie Marley & Me, she said she felt "better than ever".
She said: "I don't feel regretful, I don't feel disappointed, I don't feel let down. I don't feel any of those emotions that are ascribed to me. I just feel extremely lucky."
When asked if she ever had the desire to "set the record straight", presumably in reference to the much-publicised break-up of her marriage to Pitt three years ago and his subsequent marriage to Angelina Jolie, she replied: "I don't owe anybody my side of the story. There are no sides! There is no bad guy and there is no good guy. There are no villains and there is no heroine in this story."
Rather than the "funny, quirky, pretty roles" she usually gets offered, she said she would enjoy being the next Bond girl, saying: "I'd love to do an action move. James Bond! Glamour! Daniel Craig! ****-loads of fun!"
Speaking about her new film, a tear-jerking story about a destructive Labrador, co-starring Owen Wilson, she told ELLE Magazine: "What's great about this movie is that it's a true story. It's not pretty. It's about the reality of a marriage. It's a portrait of those moments, which everyone has, where you hit a snag. People go to Mach 5 – "We're done! This is over! We can't recover!" – when, in fact, it's beautiful. I think breakdowns equal breakthrough. You go further."
* The full interview appears in the April Style issue of ELLE, on sale Wednesday March 4.
Comments
comments