Jennifer Hudson bounced back from her family tragedy with a powerful rendition of the National Anthem at Super Bowl XLIII in Tampa, FL, on Sunday, February 1.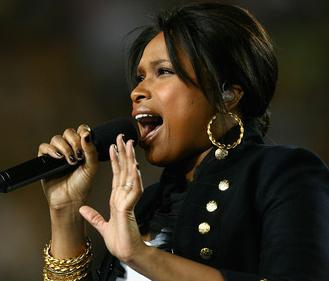 Making her first public appearance, the 2006 Oscar winner ("Dreamgirls") wore leggings, strappy sandals and jewelry, which included her diamond engagement ring from David Otunga.
Jennifer, 27, appeared pensive but resolute before the stirring performance. Hudson took a deep breath and surveyed the field before launching into her rendition of the National Anthem. She ended the song with her head tossed back and a clenched fist raised to deafening applause.
Faith Hill sang America the Beautiful before Hudson took the field for the pre-game show during which the crew of flight 1549 (Miracle on the Hudson River) was also honored.
Jennifer's mother Darnell Donerson, brother Jason Hudson, and sister Julia's son, Julian King, 7, where shot to death in her Chicago hometown on December 1.
William Balfour, estranged husband of Julia, was arrested for the first-degree murders.
Balfour, pleaded not guilty to murder charges on Jan. 20.
Comments
comments