John Mayer may be planning a proposal to girlfriend Jennifer Aniston if the serial joker is playing things straight on his Twitter account.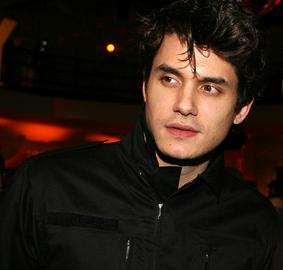 The close-lipped couple have kept their relationship quiet recently, but the musician took to his Twitter page to suggest he may have bought a ring.
He wrote on Friday: "Visiting the Diamond Exchange in Tustin," following it up Saturday with: "Welding an engagement ring for my girlfriend."
While the articulate and often-acerbic singer may have made a typo on the first word (he may have meant "wielding"), there's no mistaking "engagement ring." But, it remains to be seen if the jokester celeb is serious.
In an interview with GQ magazine at the end of 2008, Jennifer Aniston hinted that her on-again beau, John, who famously spoke out to the paparazzi after a break up with Jen earlier in the year, was done talking about their relationship in the media.
When the reporter suggested that John tends to be self-aware in his blogs, telling Jen, "so you see him blogging," the actress quickly chimed in.
"Not lately, have you?" she asked, referring to John backing off his semi-regular Internet postings.
"Uh, no," the GQ reporter replied. "Not recently, Why?"
"Just… things change," Jennifer noted.
If they are getting engaged, it could happen soon – Star reported on Friday that John is planning to propose on February 11, Jennifer's 40th birthday.
Comments
comments