Jennifer Lopez, who gave birth to her twins in February, debuted her bikini body in Tenerife, Spain Sunday.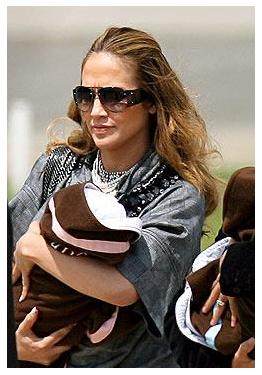 The singer, who looked absolutely amazing just three months after giving birth, felt that she was a horrible mother. You could see her stunning photo here.
There are rumors that the singer is deprived of her sleeping and having a hard time coping with her responsibilities as a new mother.
The source revealed, "Jennifer wants to be the perfect mother, but she crumbles if any normal little thing goes wrong. If the twins cry, she thinks it's because she's a bad mom, and bursts into tears herself."
The source continued, "Marc is concerned that she's not eating properly or sleeping because she's obsessed with looking after the twins."
The source added, "If she leaves them with her own mother for a couple of hours to have some time off, she beats herself up about it and feels guilty. Marc has forced Jen to take some time off and have a massage to unwind, but she even struggled to relax during that…He wants her to stop worrying about the kind of mother she's being and just enjoy it."
I have a hard time believing that she has a hard time trying to relax. Jennifer Lopez looks amazing these days and Marc Anthony looks like he is the one that can't sleep.
Comments
comments