Jessica Biel has beaten her reported one-time love rival Scarlett Johansson to the top of a new Sexiest Woman poll. Both actresses were romantically linked to Justin Timberlake at the beginning of 2007.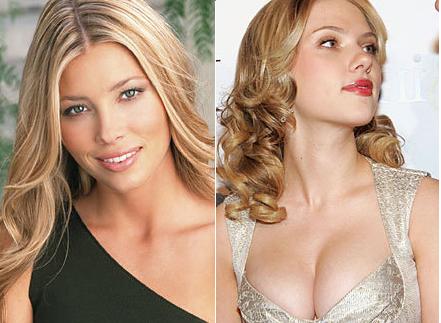 Scarlett Johansson, who appeared in the pop star's steamy "What Goes Around Comes Around" video, has recently denied that she dated Justin Timberlake.
If the speculations were true, Justin Timberlake was dating the two top women in the world, according to men's magazine Stuff. Jessica Biel got the first place. Followed by Scarlett Johansson who got the second spot in the publication's 100 Sexiest Women list.
Jessica Biel and Scarlett Johansson, who were recently seen shopping together in Paris, France, has beaten off challenges from Jessica Alba, Eva Longoria and "American Idol" star Katharine McPhee.
The List of Top 10 'Sexiest Women' Poll:
1. Jessica Biel
2. Scarlett Johansson
3. Jessica Alba
4. Eva Longoria
5. Katharine McPhee
6. Sienna Miller
7. Olivia Wilde
8. Angelina Jolie
9. Malin Akerman
10. Christina Aguilera
Comments
comments