File this one under "A" for "Adorable": Egged on by his brothers Kevin and Nick, Joe Jonas finally takes on Beyonce's "Single Ladies" dance in a new video.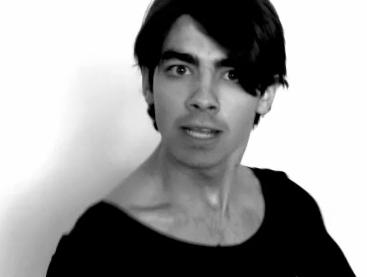 Clad in a skintight black unitard (cue screaming tween fans right about… now) and heels, the middle JoBro shimmies, shakes and sorta attempts to lip synch the words to the popular and oft-emulated song.
Though the video starts with a shy Joe hiding behind Nick as he and Kevin push him to do it "for the fans," it's only a matter of time before the video becomes a black-and-white extravaganza of Joe's moves, some of which mimic the ones Beyoncé made so popular in her video.
The video makes its debut on the Jonas Brothers' official YouTube, with the caption: "For our 2 Week COUNTDOWN to our 2009 Album Release, here is the long-awaited and long-requested video of Joe Jonas dancing to Single Ladies! The Jonas Brothers' new album, 'Lines, Vines, and Trying Times.' "
Cute though he may be, Joe should probably stick to singing and breaking teenage hearts.
Meanwhile, The Jonas Brothers' new album, Lines, Vines, and Trying Times, drops in stores on June 16th!
One of the album's songs, "Fly With Me," is featured in Ben Stiller's Night at the Museum 2: Battle of the Smithsonian, in theaters now!
Comments
comments